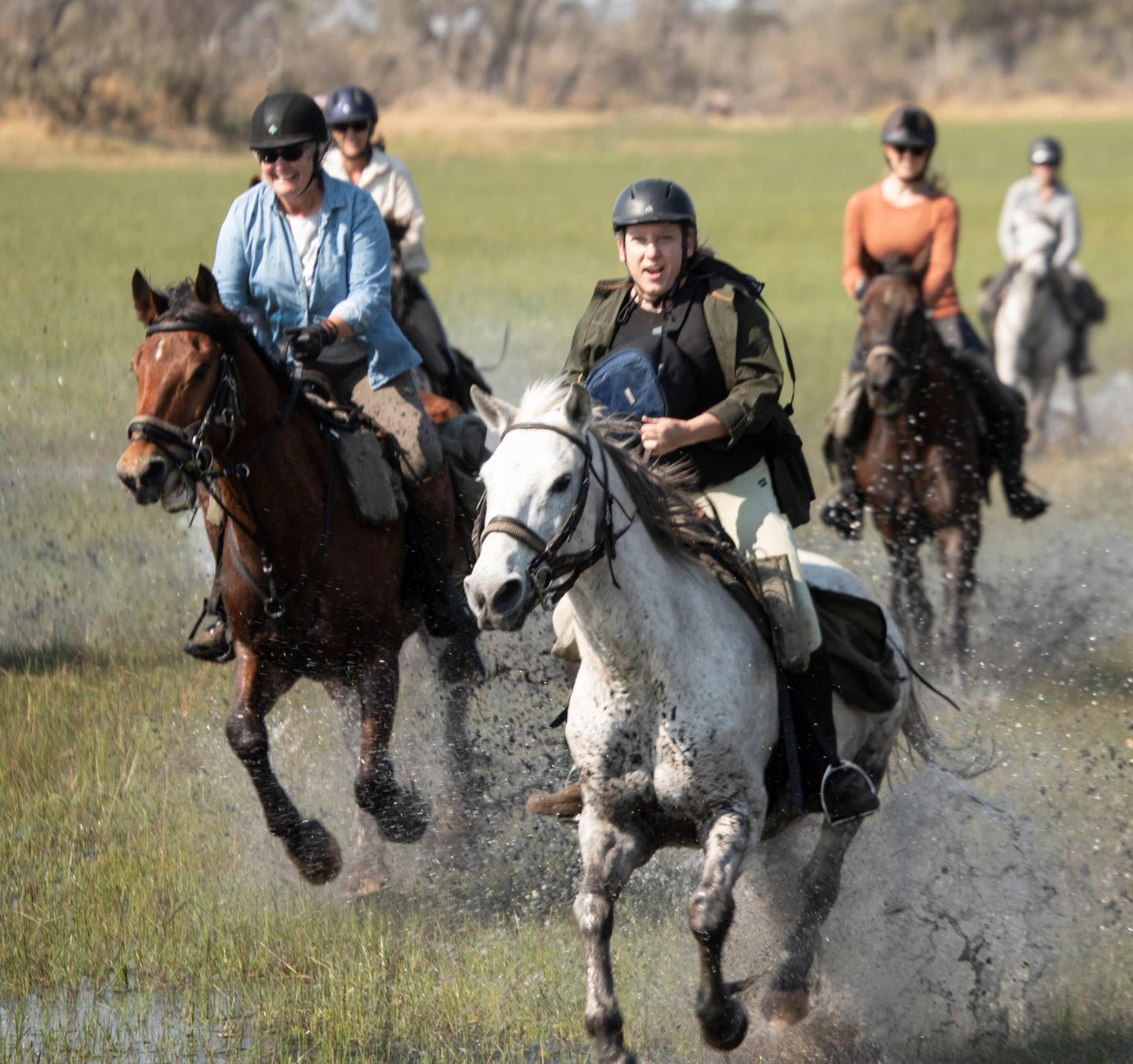 This review is from Jenni at Life Between the Ears
***
I put to test the usefulness of the Think Tank sling bag on my recent trip to Africa.  This adventure was a horseback safari in Botswana on the Okavango Delta.  Being a rider, I was thrilled at the prospect of getting up close and personal with the African wildlife on horseback.  Being a photographer, I wasn't sure I would be able to use my Canon 5D Mark IV safely and effectively from the saddle and wading through the water around every bend.  After much consideration, I decided I at least had to try to find a way to make it happen.  
My main goal was to find a way to carry my camera along with a decent sized lens, keep it dry, and not fatigue my back and shoulders while spending about eight hours a day riding and photographing.  I searched every website I could find for what options were available to me.  I went to REI and looked at various wet bags and camera carrying bags.  Everything I found was too bulky to strap to my body or the saddle for long periods, or too awkward to take a camera in and out of quickly and securely.  I finally settled on two different options.  One was a body vest that had a semi quick-clip feature front and center to attach the camera via the tripod attachment.  The other was the medium-sized Think Tank sling bag.  Waterproof options were simply not available, so I needed to come up with an option that would keep my camera above my waist as we could potentially be in waist-deep water on the horses.  
The vest with quick-clip feature did not hold up well.  The jostling of the horse while trotting quickly loosened the clip and my camera was in danger of falling off of me.  I tried tightening it several times, but eventually, the clip fell off somewhere in the African wilderness on the first ride.  Luckily my camera did not get dropped!
The Sling bag, on the other hand, was my salvation.  I did some experimenting with positioning it and found that I could easily take it in and out of the bag when positioned with the zipper facing up towards my face - which some might see as wearing it upside down.  I was able to hike the bag higher on my body with the secure straps that were easy to loosen and tighten and adjust in length. I used the small waist strap to hold the bottom of the bag close to my body.  I did not end up slinging the bag back and forth from back to front but just kept it close and secure to my body in front throughout the trip.  I was able to trot and canter, even gallop through water at high speed, without feeling the camera bag bump around.  Everything stayed totally safe and secure and snug.  I rode for seven days in a row and did NOT have any back fatigue whatsoever.  The small compartments inside the bag and the zip pocket on the outside allowed me to bring extra batteries.  The medium sized bag accommodated my camera body with a 70-200mm lens or a  70-300mm lens.  I didn't try to bring along extra lenses in the bag as switching out would have been too much to juggle on the horse.  However, I would think a longer 100-400 lens would need the large sized bag.  There are compartment dividers in the bag that would allow you to bring an extra lens of smaller size.  For my purposes, I removed the divider and just set my camera inside.  
 I was SO pleased with this bag and would highly recommend it to anyone wanting to carry their camera while horseback riding, or probably any other number of active sports.  I am also excited to try it using the sling feature on walks/hikes.
Thank you Think Tank!
~ Jenni
Follow Life BetweenThe Ears on Facebook or Twitter.