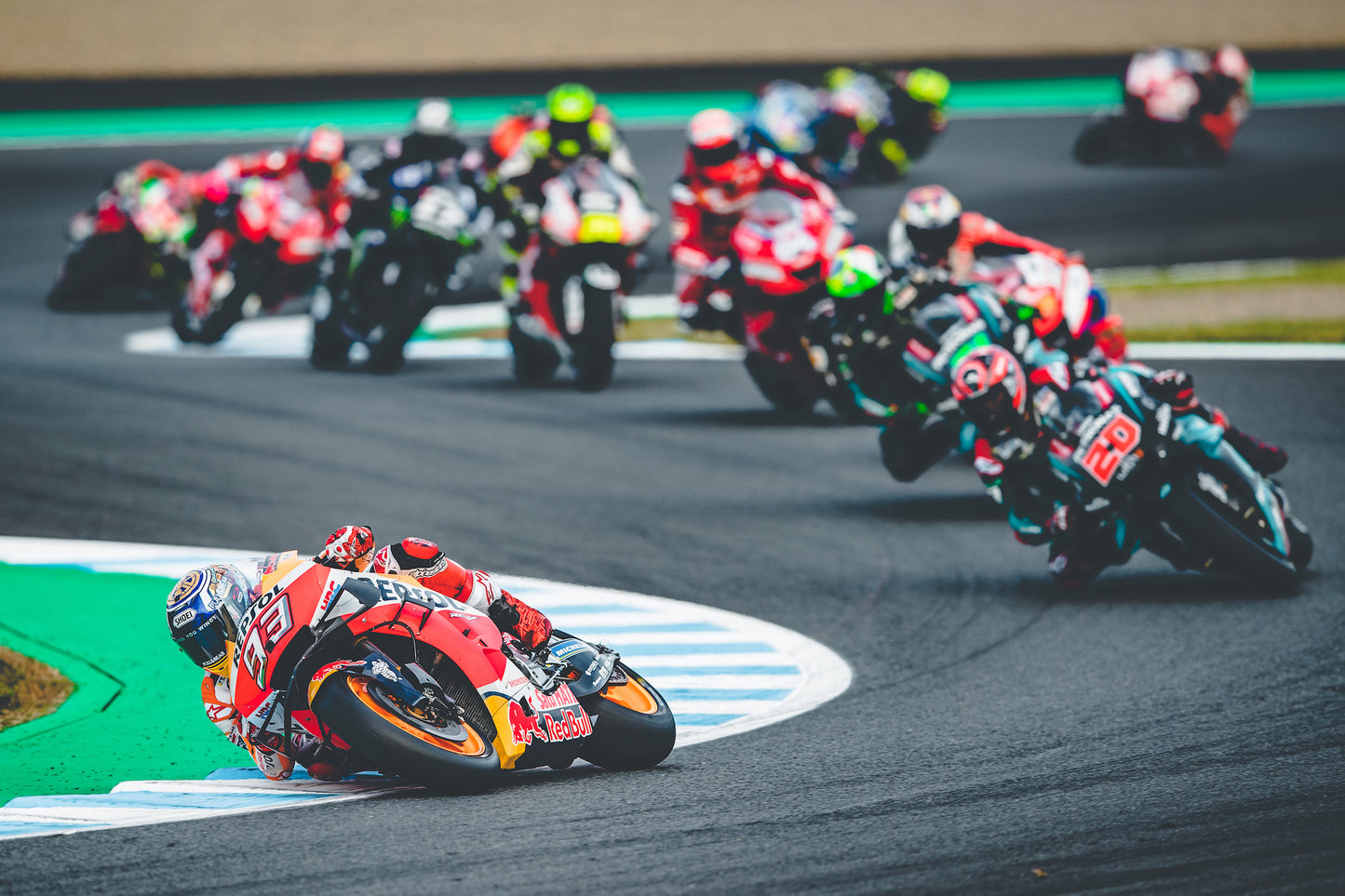 Those of you that follow us on social media might know that we've followed Rob for some time (no, not in a stalker kind of way!) and have shared his work many times, stunning MotoGP Photographs and a nice bloke, too. Rob graciously agreed to join us for our 'Five minutes with...' A new series where we find photographers doing great work and share it with you, by way of five quick questions! We hope you enjoy this one with Rob Gray, MotoGP Photographer. 
Polarity Photo online and on Twitter
1. Who are you, what do you do and how long have you been doing it? 
My name is Rob Gray and I am a MotoGP Photographer. This is my 5th season in MotoGP and before that I was shooting British Superbikes and World Superbikes.
2. When you started out in the field you're in, how did you get your first "break" / was there a defining moment you just knew "This is what I want to do!"
It all started for me as a spectator. My local circuit is Brands Hatch and I used to go and watch the British Superbikes and Touring Cars. At first it was without a camera, I just went to enjoy the racing. But for one particular race a friend lent me a camera, I had never owned or even held a DSLR at that point but I remember trying (and failing) to get photos of the superbikes and just enjoying the challenge of capturing them. After that I was hooked! I would attend as many races as I could, shooting through the fence with basic equipment and trying to improve all the time. 
My first 'break' was probably a crash shot of Shane 'Shakey Bryne'. Thankfully he was ok but he had a high speed off at Hawthorns bend, Brands Hatch. I captured the sequence and they were my first ever images published in a bike racing publication. I remember buying 2 copies of the magazine and still have them today! From then on I was always trying to get more work published and to learn the profession rather than just take a good photo.
3. When people like me ask you that question "What's your favourite photograph you've ever taken" which one do you think of first?
For me this is almost an impossible question to answer! I find that each season my list of favourites evolves and changes but the one common theme is that they usually link to an emotional moment. For example last season capturing the emotional celebrations of Danilo Petrucci winning at Mugello in Italy, his home country. As well as Marquez climbing the tyre wall to celebrate with his fans in Aragon - both of those images show a lot of emotion and stand out among the others.
4. Do you have a photographic inspiration? 
I take a lot of inspiration from other sports, especially Mountain Biking. The emphasis on incorporating the environment is really appealing to me and it's something that I try to include in my work in MotoGP. 
A different Rob, 
Rob Cianflone, photo by Theo Karanikos #ShareTheMoment to show you the
Hydrophobia rain cover
that Rob's talking about, below. 
5. What gear do you mostly use and what bags do you use mainly?
The main gear I use is 2x Canon 1DX, a 70-200, a 16-35, and a 400mm. Of course there are variations to that depending on the work, but thats what I use in the main. I have to travel around the world with this equipment and keep it safe during transit, and for the last 5 years or so I have been using the excellent Airport International roller bag. Its a genuine work horse that has never failed. I also use the full line up of
Think Thank water proof covers
, more recently I have been making use of the emergency covers because of how easy they are to keep in a pocket and use if the conditions change. I have the hydrophobia covers for when we are expecting constant and prolonged rain and the emergency covers for when i'm just not sure!
5a. Any advice for someone wanting to do what you do? *bonus question, thanks Rob!*
My advice would be to get out and shoot as much as you can. Local events, sports etc and get in contact with magazines, websites, papers, teams etc and look for opportunities to provide them with images. Value yourself and your time, charge for your work and set yourself some goals each season/year to achieve and progress your skills. Follow other photographers across different disciplines and sports to build an idea of what you like, and the types of things you would like to be able to shoot one day. Look for workshops, training, advice from other pros to help bring everything together and further your understanding of things. Most importantly, don't let anyone tell you that you can't do it!  Of course, just like anything worth doing its not easy, its a huge amount of work and commitment but if you really want to do it then you can and you will! 
Thanks very much, Rob, for taking the time to answer our questions! See you next year for a coffee on your way to 'The Island' -- Simon