ADDITIONAL FEATURES

The Filter Nest is belt-mountable and compatible with most MindShift Gear backpacks to quickly access filters while setting up a shot. Plus, the grab-handle with SR buckle enables photographers to hang the Filter Nest from a tripod to suit workflow for rapid filter changes when speed counts.
<ul> <li>Belt-mountable to provide quick access to filters when setting up a shot (Compatible with the r180° Panorama, Horizon or r180° Pro)</li> <li>Grab-handle with SR buckle enables you to hang the Filter Nest from a tripod for quick access</li> <li>Front zippered pocket fits a lens cloth</li> </ul>



MATERIALS

<strong>Exterior: </strong><br>Durable water-repellent (DWR) coating, polyurethane coating, 100D rip-stop nylon, 210D velocity nylon, 3-ply bonded nylon thread<br><br><strong>Interior:</strong><br> Nylex lined filter pockets, closed-cell antilon foam, nylon binding tape, 3-ply bonded nylon thread



RETURN POLICY

If you are not completely satisfied with our product, you can return it unused within 30-days for a full refund less shipping costs. Refunds will not be issued until the product is received and inspected to insure that it contains all the parts and is clean and unused. Note that we do not pay for shipping to have you return it to us.



WARRANTY

At Think Tank, we build our products for the daily impacts of travel and demands of working professionals over extended periods of time. We build many of our products with user replaceable parts to keep your bag going for years.



SPECIFICATIONS
<strong>External pouch:</strong><br>
8.1" W x 4.3" H x 3.0" D (20.5 x 11 x 7.5 cm)<br><br>
<strong>Removable filter insert:</strong><br>
7.3" W x 3.7" H x 1.8" D (18.5 x 9.5 x 4.5 cm)<br><br>
<strong>Round filter slots:</strong><br>
3.4" W x 3.5" H (8.6 x 9.0 cm)<br><br>
<strong>Weight:</strong><br>
0.4 lbs (0.2 kg)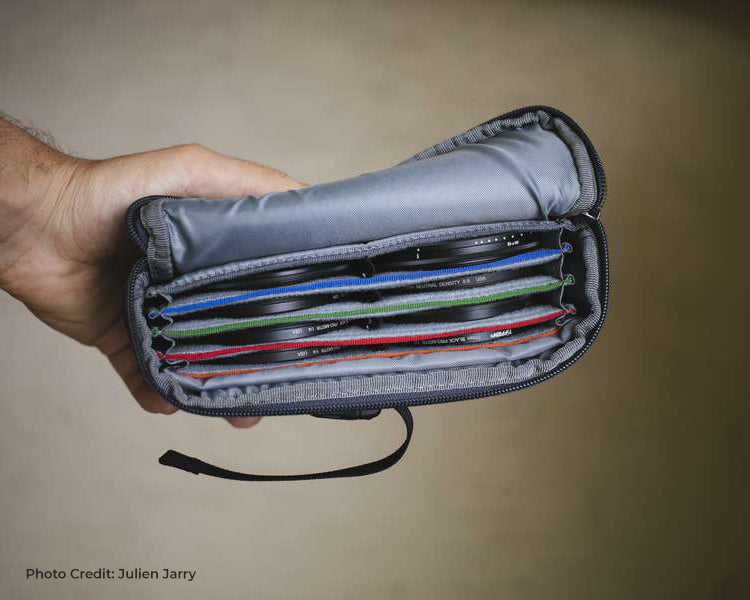 Fits 8 round filters (up to 82 mm) including 2 variable NDs in orange divider, step up/down rings, cleaning cloth, lens caps, lens pen and more.